Khodamic Badar Besi Vintage Talisman for Telepathy and Clairvoyance
In Indonesian 'Badar' meaning stone, and 'Besi' meaning iron, is a metallic rock, classified as a 'mustika'stone.
Therefore, badar besi is one of the most sacred types of Indonesian gemstones, used in amulets and talismans. Because of exactly that reason, it is also known as the magical iron element.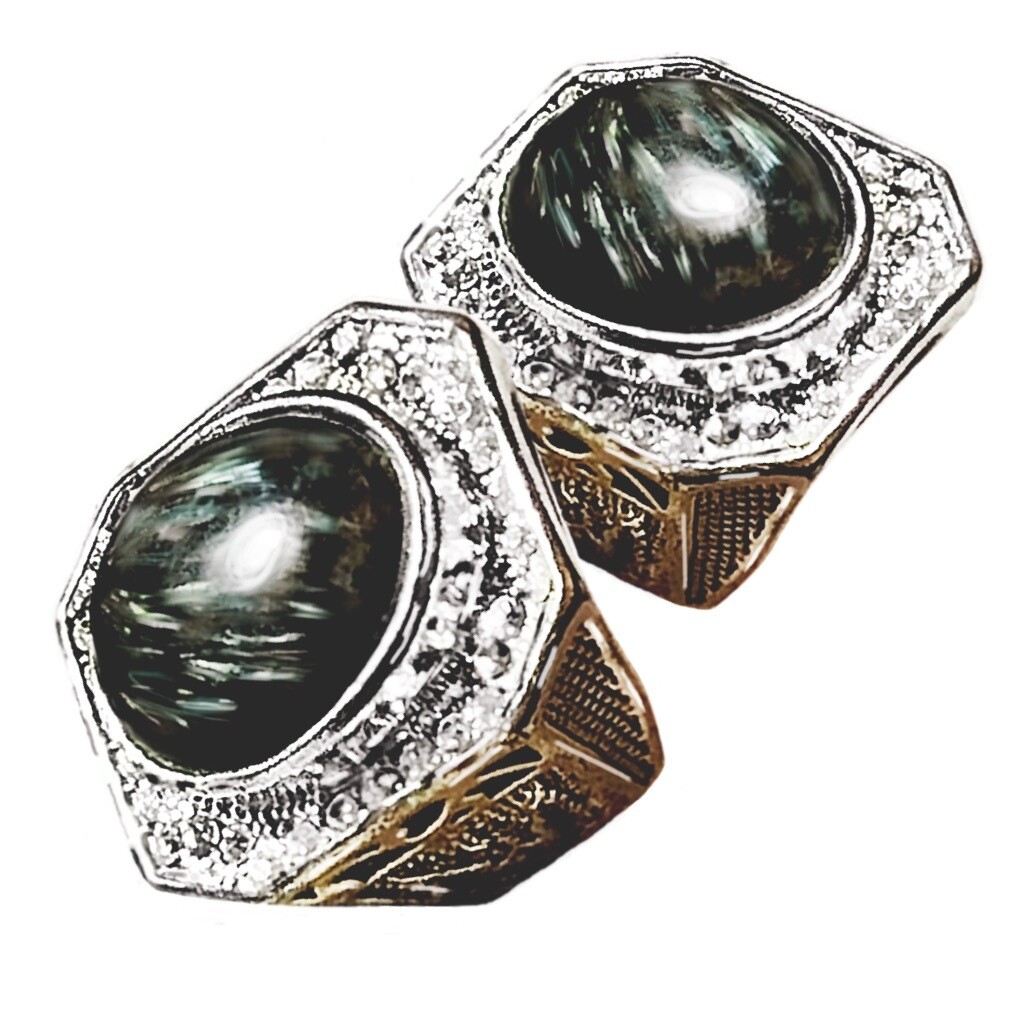 Besides iron, badar besi often contains particles of hematite, magnetite and even meteorite.
This sacred substance is not only excavated in Indonesia, but appears in other parts of the world as well. The magical gem is known in many cultures around the world, throughout the ages.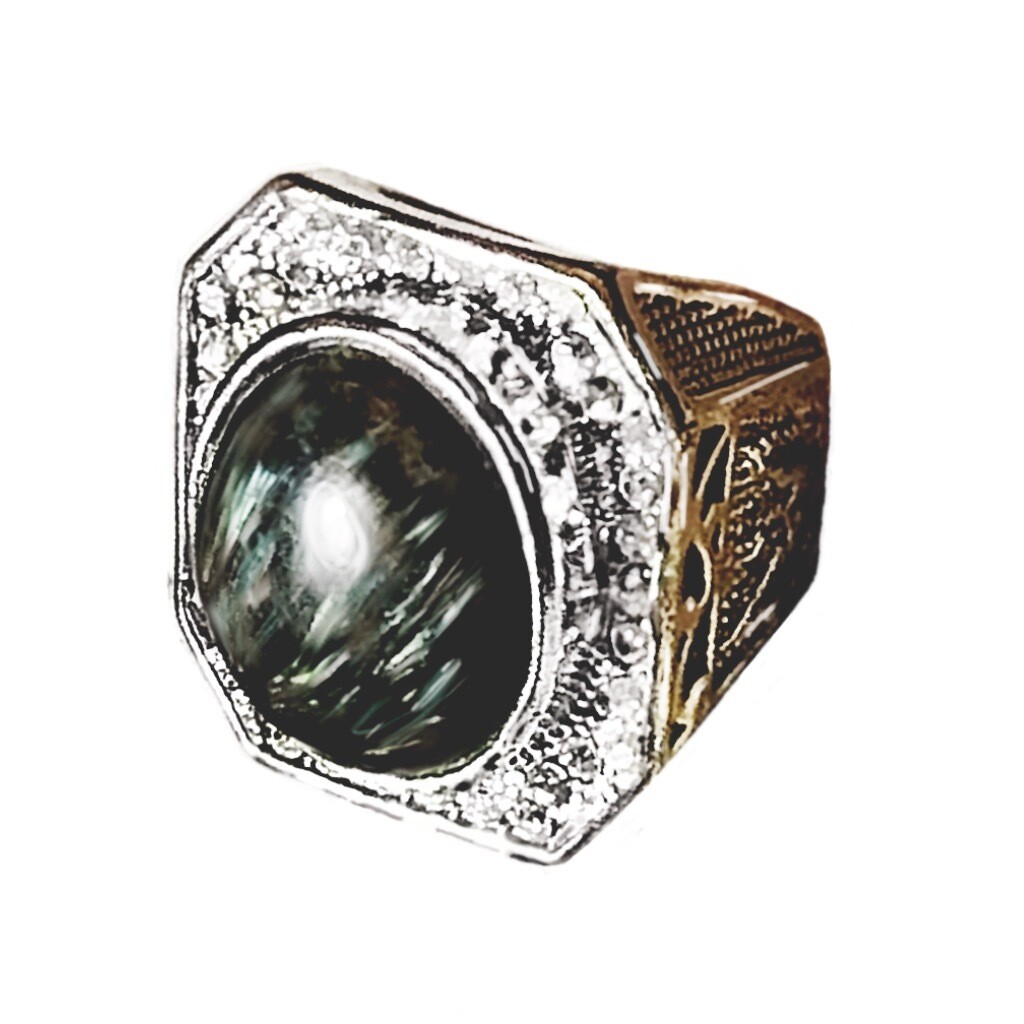 As an amulet, badar besi is especially useful for developing psychic powers such as clairvoyance, telepathy, precognition and other forms of extrasensory perception.
The inhabiting khodam spirit, assists the wearer of the badar besi mustika stone in his or her spiritual practice. Yet the khodam spirit can also be called upon for help regarding worldly matters. In this way, then, badar besi stones serve as a wish-fulfilling amulet, too. Also, by holding the mustika stone in one's hands, it can be used to charge the human body with esoteric powers which help to protect against physical dangers. This means that badar besi holds a special power to ward off attacks and black magic.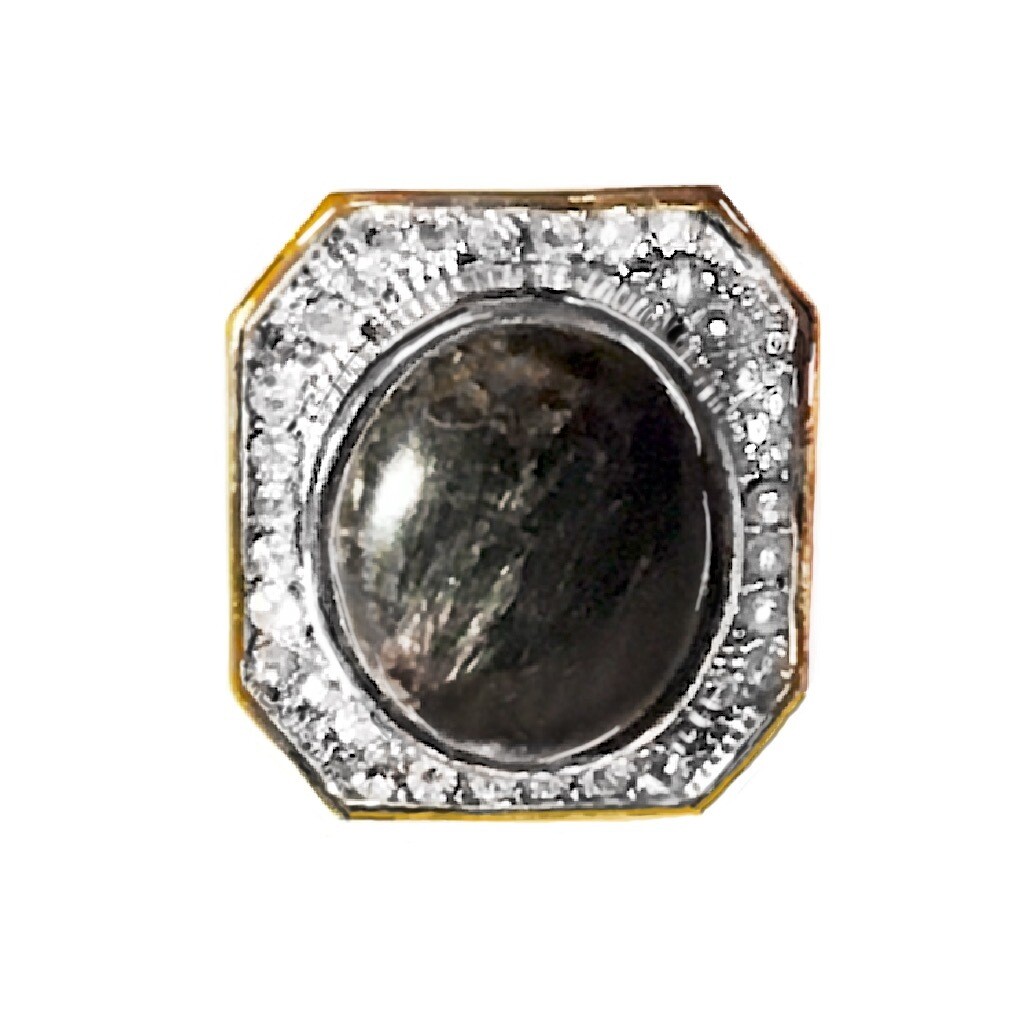 According to local beliefs, badar besi can only be obtained by very few spiritual masters. In order to be able to locate the presence of the magical iron element s/he must possess the supernatural ability of clairvoyance.
Only the most spiritually skilled dukuns are considered capable of performing this paranormal phenomenon.
Unfortunately, the ancient tradition has been imitated and exploited by many fraudulent individuals, over the past decades. As a result, there is a lot of forgery on the commercial market these days. Today, the majority of these mystical stones are produced artificially and obviously, these synthetic specimens have no spiritual nor magical power. Therefore it's a rare opportunity to get hold of an authentic piece of badar besi.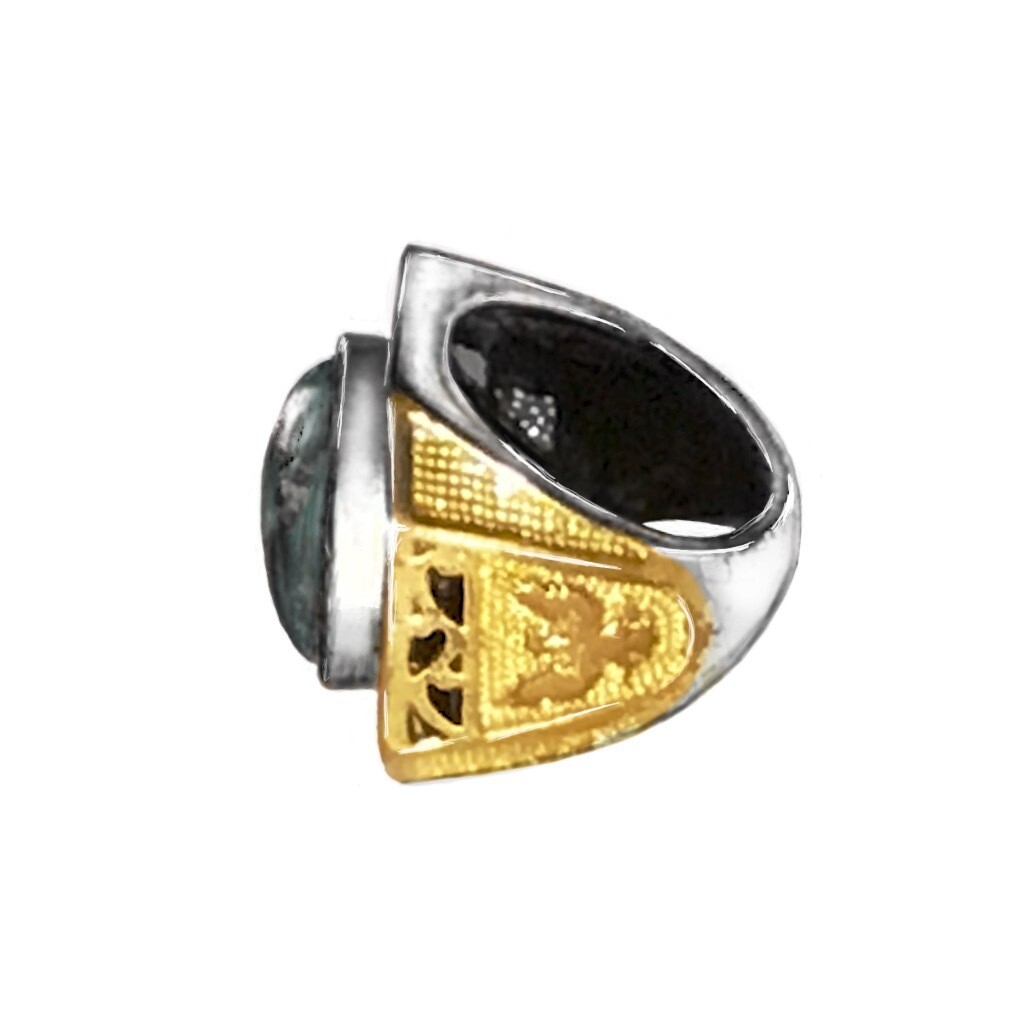 The large cabochon stone, set in zircons, in this powerful vintage amulet, can unmistakably be recognized as badar besi, with its deep black color and mysteriously glittering shades and stripes.
Excavated in central Java and processed into this prominent ring, by a crafty jewelry smith in Yogyakarta, this old piece of jewelry truly is an impressive and powerful talisman.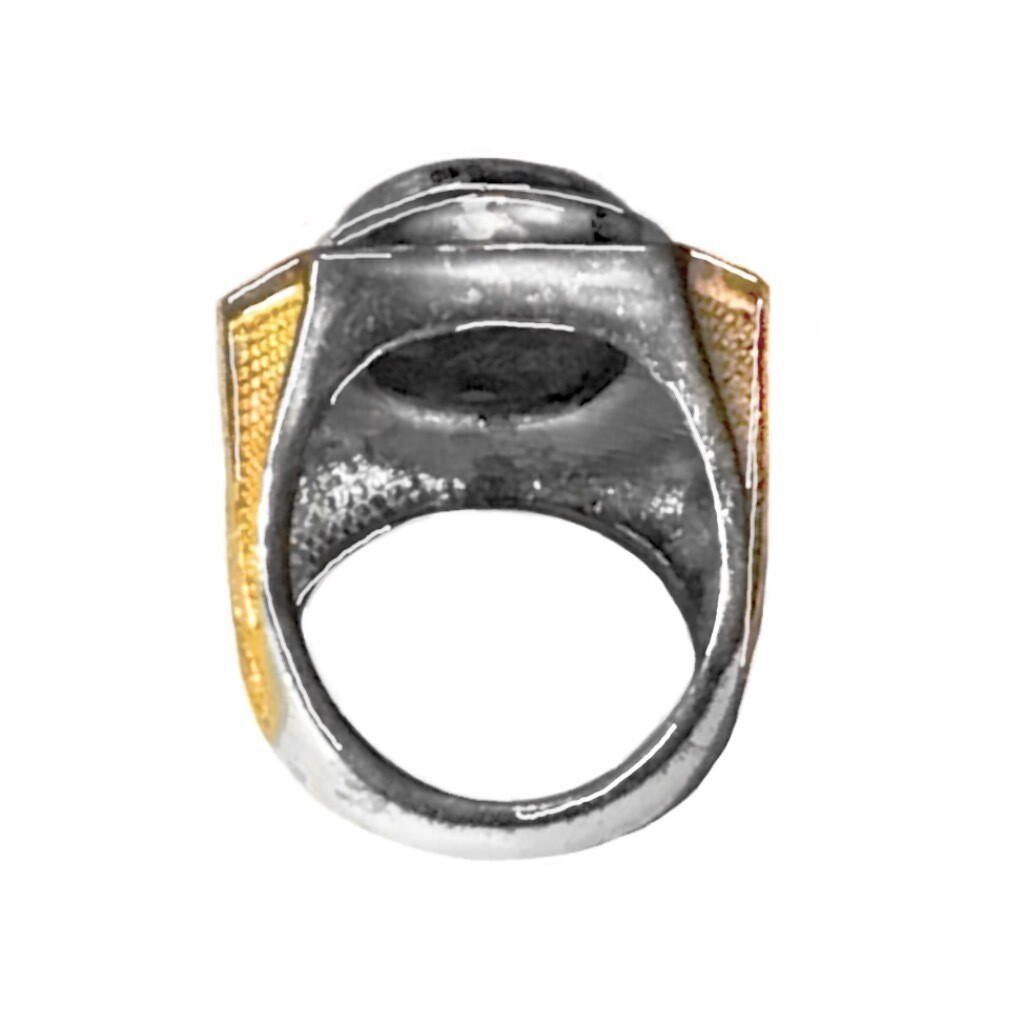 This rare amulet, obtained from a heritage, has been worn and proved its power to its former owner, therefore showing little signs of usage.
However, it is exactly that, what gives extra character to this rare and impressive ring.
Not only the sacred badar besi stone, which underwent an occult ritual by its 'dukun' finder, in order to enhance the stones' natural magical properties, gave this amulet its power. Also the large ring itself with its eagle imprint
contains, so called sympathetic magic, transmitting the eagles' magical properties of insight and perception, upon its wearer, thus even allowing telepathic and visionary revelations.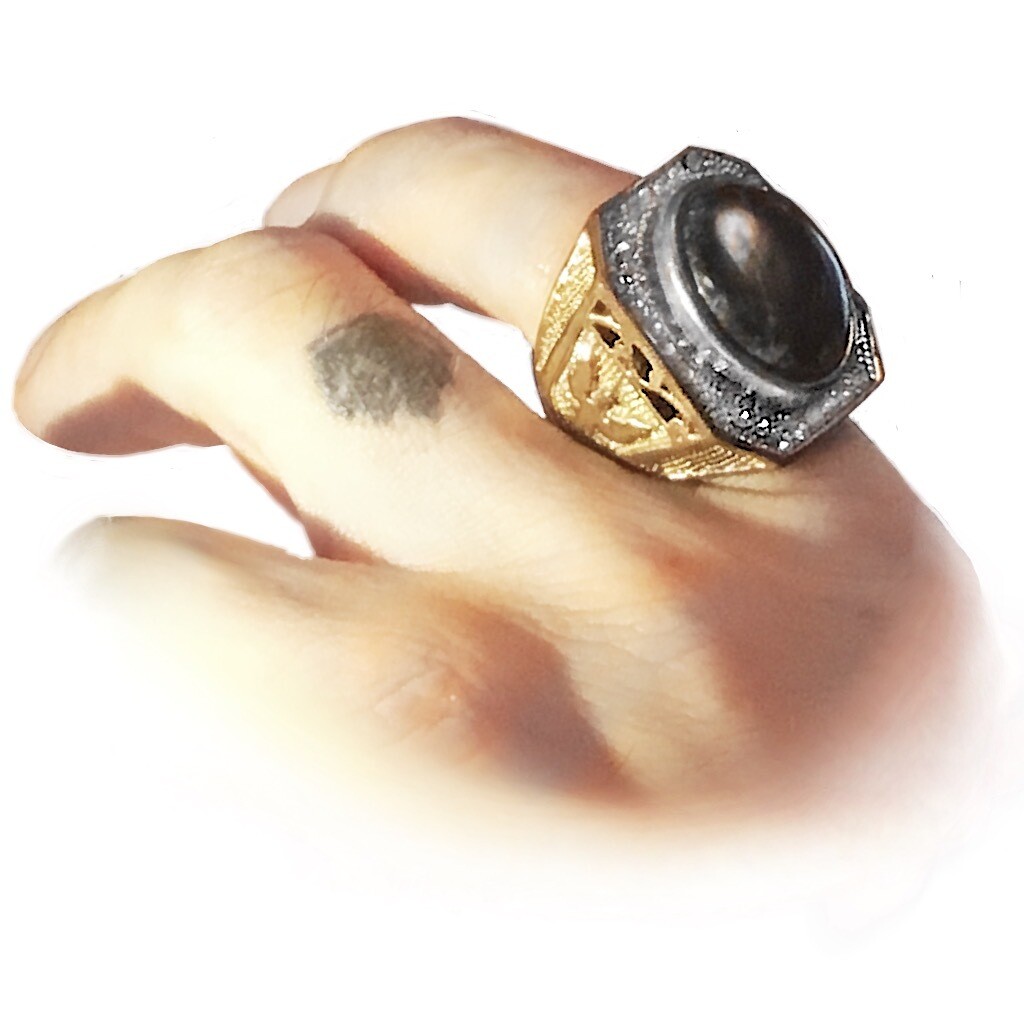 Throughout history, the eagle has been a symbol for strength, leadership and vision. The eagle has been used in banners by many of the great empires in history, from Babylon to Egypt, through to Rome and even the United States.
In early Christian times, the bird was a symbol of hope and strength, representing salvation.
It appears twice in the book of Revelation and in Islam, the eagle represents warlike ferocity, nobility and dominion.
The Greek God Zeus transformed into the sacred eagle to help control thunder and lightning. Also in the Roman Empire, the eagle was a strong emblem, used by the caesars. The native Americans associated the eagle with the energies of the sun, physically and spiritually, as well as a symbol of greater sight and perception.
'A very great vision is needed, and the man who has it must follow it as the eagle seeks the deepest blue of the sky.'
Crazy Horse (1840 – 1877, Lakota war leader)